I thought it would be fun to start participating in some more meme's. I think its a great way to get to know your fellow bloggers as well as gain more followers, subscribers and blog interaction!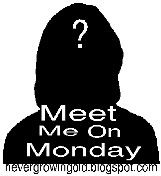 Questions:

1. What is your favorite kind of fudge?
i have never really had much fudge. but i would love to try something different like a cookies and cream fudge. but from what ive had, just plain old fudge is good in my book.

2. Is there snow outside your window?
yes but it is practically all melted now. its taking awhile from the last couple of snow storms for it to all melt

3. What is your favorite meal of the day?
since i got pregnant.. id have to say..breakfast, lunch, dinner and snacks inbetween! lol. i am loving eating. i eat about every 3 hours now because if i dont i start to feel sick.

4. Do you text on your cell phone?
all day, everyday, anywhere, everywhere. my cell phone is my lifeline!

5. Waffles or pancakes?
frozen waffles, homemade pancakes (from a mix of course)